Doc Review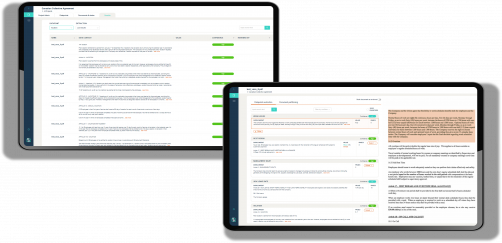 Automate your document review
Doc Review automatically identifies, extracts and structures essential information in your documents:
contracts, invoices, briefing notes, etc.
Functionalities
Upload your documents, ask questions, get answers

Convert all your documents (contracts, invoices, memos...) whatever their format (PDF, Scan, Images, Word ...) into structured and usable text.

Easily define the key elements to be extracted according to your needs (signatories, specific clauses, pricing conditions).

Annotate the results: AI adjusts the solution to your context

View the results on a straightforward interface, export them or interface them with your other tools.

Thanks to our annotation feature, capitalize on your teams' knowledge for a continuous improvement of the AI.
Have a look at Doc Review
Get better operational results
Better efficiency

Reduce the mental load of your teams by freeing them from these unstimulating and time-consuming tasks.

Time saving

Save time and devote it to more strategic activities for the company.


Removing errors

Take full advantage of all the data in your documents and eliminate any risk of error!


Optimization

Enhance the quality of your data and improve accuracy, organization, and efficiency.

They trust us
Banking actor

As part of its actuarial activities, the bank receives a significant volume of reporting files containing key indicators. However, these data are contained in different document formats and in many different forms (tables, figures, text fields, etc.). Searching for this data can be tedious without a suitable tool. With Doc Review, we offer a tool for intelligent extraction of the key indicators that Pacifica needs to pre-populate a UCITS monitoring file.optiwioperation

FMCG actor

Management of the entire billing process. The tool allows the decoding, analysis and classification of information contained in raw invoices in disparate formats, to restore them in clear, exploitable and scheduled data.


Financial agency

Databases optimization and enrichment with essential elements. It allows the processing of a greater quantity and variety of data, sources, and document formats. Users can also isolate the most important elements according to their own criteria to build more robust reports based on extractions.
Request a demo
Request a demo
Are you an expert? Login