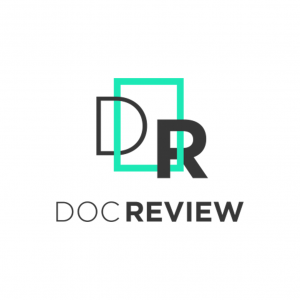 Doc Review

Automate your document review thanks to artificial intelligence

Doc Review automatically identifies, extracts and structures key information contained in your documents: contracts, invoices, briefing notes, etc.
Import your documents, ask questions, get answers
Convert all your documents, whatever their type (contracts, invoices, memos...) and their formats (PDF, Scan, Images, Word ...) into structured and usable text.
Doc Review allows you to easily define the key elements to extract according to your needs (signatory, specific clauses, pricing conditions).
View the results on a clear interface, export them or interface them with your other tools.
With our annotation feature, capitalize on your teams' knowledge for continuous AI improvement.
What benefits for your teams?
Increase your efficiency
Automate low-value added tasks
Focus your efforts on critical activities
Speed up document review
Finaly use all your documents!
Increase the number of documents processed
Extend your field of analysis to new documents
Add value to your unstructured data
Improved data quality
Drastically reduce your error rate
Improve the quality of your extractions
Refine the accuracy of your searches
As part of its actuarial activities, Pacifica (Crédit Agricole) receives a significant volume of reporting files containing key indicators.
However, this data is contained in different document formats and in many different forms (tables, numerical values, text fields, etc.) and searching for them can be tedious without the appropriate tools.
With Doc Review, we offer a generic tool for intelligent extraction of key indicators that Pacifica needs to pre-populate a UCITS monitoring file.
Like many multinational companies, L'Oréal's activities generate a significant amount of documents to process, analyze and exploit.
In this context, L'Oréal decided to use Doc Review to manage its entire invoicing management process.
With our AI-enabled solution, we offer a turnkey tool to decrypt, analyze, and classify the information contained in raw invoices in disparate formats into clear, actionable, and scheduled data.
The French Development Agency (AFD) uses Doc Review and its powerful detection capabilities to optimize and expand its databases with critical elements.
Our solution allows this institution to process a larger amount of data from more data sources and based on more varied document structures.
In addition, the user can isolate the most important elements according to his own criteria and this allows AFD to build more solid reports based on the extraction of data.
Get a demo
Please notify us within 24 hours minimum.
Sia Partners processes your personal data in order to respond to your request for contact and information. You have rights over your data. For more information, please consult our
Data Protection Policy