Energy Platform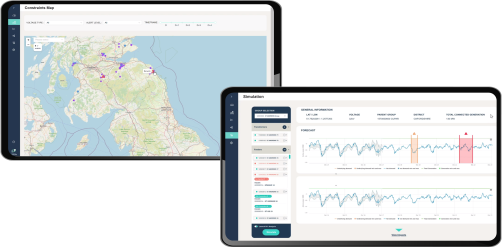 Our AI solutions for operations and short-term forecasting
Functionalities
A library of tools for network performance

The Energy Platform by Sia Partners is a library of AI solutions to optimize your power grid operations:

Real-time grid operations
Maintenance
Load balancing
Flexibility
Distribution
Transmission optimization etc.
ENERGY PLATFORM MODULES
Visualize your network

With the map and load curve visualizations and gain visibility into your network's previous, current, and future behavior.

Interpreting your data

with the disaggregation solution refine your understanding of the electrical flows on your network by separating them between consumption and production.

Predict demand

Predict consumption on your network by analyzing fundamental variables: weather, seasonality, network status, long-term trends in electricity consumption (demographics, energy efficiency, new uses such as electric cars).

Forecast generation

Anticipate injections from all generation assets connected to your grid with our prediction solution.

Optimize short-cycle forecasts

Automatically adjust demand and generation forecasts in case of deviation from current forecasts (one-off events, long-term behavioral change). This solution proved its efficiency during the March 2020 lockdown with an average improvement of our projections of 40%!

Anticipate network congestion

Identify at a glance the substations at risk of congestion in the coming days. Determine when and what volumes will be needed to cover the network risk.

Simulate contingency plans

Simulate contingency plans by adding/deleting assets, moving load from one station to another, and simulating the impact on your network.

Simulate network congestion

What happens if a transformer fails? How do you unload a substation at risk?
Have a look at Energy Platform
Customer feedback
European energy distributor #1

The Sia Partners forecasting software deployed on AWS Cloud uses historical grid data, detailed weather data, and artificial intelligence to predict the energy flowing through the power distribution system. It will be used in real-time management of the grid and forward planning when assessing the impact of new connections on the system.

European energy distributor #2

Our solution allowed our client to act on a large scope: maintenance operations management, network impact, decision support on multi-million pound infrastructure projects

Some elements:
- 100+ users
- 24/7 in the control room to support electricity network operations
- 4 forecast per day to support local flexibility processes
- SLAs: 98% availability, 24h incident response time for critical incident
" Working with Sia Partners on forecasting software will allow us to understand better future energy flows on the grid, down to the half-hour. This will allow my team to ensure that the network is optimized to provide the resilient supply and customer service that our customers expect and deserve. "
Grant Mc Beath,  Control Room Manager at SP Energy Networks
Request a demo
Request a demo