Reg Review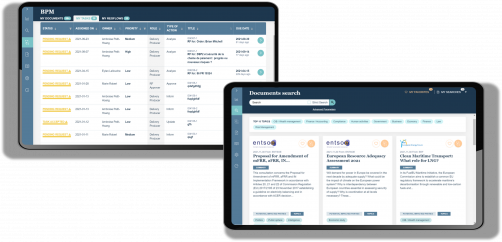 Automate your regulatory monitoring and processes
Our Reg Review AI solution allows your compliance teams to deal with regulatory inflation, increased technicality, increased controls from regulators, and even take into account local specificities.
Functionalities
Eliminate manual processing

Collect and configure all regulatory sources relevant to your business.

Our AI algorithms perform an automated analysis of documents to extract essential information (subject, regulation, summary, relevant stakeholders, etc.) 

Coordinate all compliance tasks within a single platform

A complete audit trail lists all analyses and processes performed on each regulation.


A single process management platform (BPM) to manage the communication of each document to the relevant people and teams, the tracking of processing actions, the assignment, validation of tasks and analyses, etc.
Have a look at Reg Review
Gain productivity and serenity
Gain productivity and serenity

Freeup time for your teams to focus on high-value-added analysis and enforcement tasks.

Enhanced collaboration

Increase collaboration within your teams by centralizing task tracking within a single platform.

Better monitoring

Always be on top of information. No regulation goes unnoticed, and all actions are tracked and stored within the same tool.
They trust us
Major asian bank

Reg Review enabled the improvement of a major Asian bank Central Compliance Team's efficiency in the handling of regulatory updates. Reg review was used to automate and implement a regulatory update/change process and system to achieve more efficiencies, accurately track deadlines and action items, and improve the audit trails.

Financial institution

Every bank Central Compliance Team handles around 2000+ circulars from regulators every year. Current handling process is manual and is considered as inefficient, on both communication and record keeping. Reg Review was implemented to automate the regulatory circular management process by implementing AI combined with a workflow system to optimize the current process as well as to enhance tracking and management reporting would increase the efficiency.
Request a demo
Request a demo
Are you an expert? Login