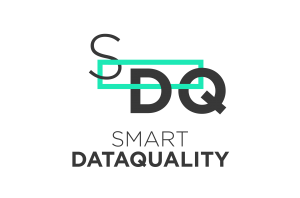 Smart Data Quality
Make your Data Quality treatments easier and more efficient thanks to AI
More than ever, organizations are looking to increase the value of their data. Most are hampered by poor data quality, which can end up costing up to 20% of the revenue. Smart Data Quality solution uses AI to enhance your teams' expertise, allowing you to monitor and improve the quality of your data
Normalize, enrich and deduplicate your databases. 
> Databases are made up of an average of 15% duplicates.
Enrich and detect outliers in your dataset.
 > Smart Data Quality diagnostics achieve 95% accuracy.
Implement effective diagnostics on the quality of your data, by integrating with existing IS bricks.
> Data quality treatments generated in a few clicks.
- Let Smart Data Quality detect correlations within your data and impute missing values
- Smart Data Quality will integrate them directly into your technical ecosystem
- Take advantage of Smart Data Quality's data normalization database
- Normalize your data on a large functional perimeter: address, bank details, customer details etc...
- We are convinced that involving the entire company is a key success factor in a data quality approach
- Promote synergy between the different teams for your projects thanks to a collaborative environment.
- Choose the relevant stakeholders to intervene on your projects.
- Export the model that suits you and integrate it directly into your core IS
- Keep the intellectual property on the treatments resulting from Smart Data Quality
Target poor-quality data
Build, in a few clicks, a personalized and efficient diagnosis on the quality of your data,
Identify abnormal behavior in your data,
Deduce relevant corrective actions based on an exhaustive diagnosis.
Get rid of duplicates
Have your business experts collaborate with our AI tool to build a deduplication process adapted to your context,
Visualize the results of the algorithms in real-time,
Integrate the processing into your IS ecosystem.
Enrich your databases
Choose to enrich your data with Open Data, Smart Data Quality pre-processed data sets, or any other custom source,
Efficiently reconcile different data sources by blending business expertise with our machine learning algorithms,
Visualize the results of the algorithms in real-time.
French Utilities player
A French Utilities player was in the middle of its CRM migration. Our client decided to take profit of this situation to cleanse its customers' database. Smart Data Quality was used to point out and delete all the duplicates within its CRM database. The performance of the algorithm was higher than 90%.
French Energy Provider
In order to build an efficient customer segmentation, this Energy provider wanted to use the French public data. Smart Data Quality helps our client to enrich its customer data with the Open Data available.
French gas supplier
To prioritize the maintenance of its grid connections, our client, a gas provider, wanted to detect social housing. We provided him with our Smart Data Quality solution to enrich its data with data coming from social landlords to identify these connections.
Sia Partners processes your personal data in order to respond to your request for contact and information. You have rights over your data. For more information, please consult our
Data Protection Policy